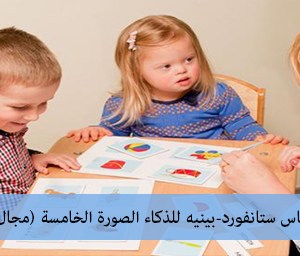 It is a cross-cultural scale that is standardized on Arab environment and characterized by a high degree of validity and reliability. The test is used in quick screening and administered to individuals aged 3 to 80 years. IQ tests play a significant role in predicting performance in school and work. Research experience has shown that intelligence or intellectual mental ability is a good indicator of success. Intelligence interprets 30% to 70% of performance variation. For decades, schools have used intelligence tests to identify gifted students and students with learning problems. Many psychological studies support the relationship between high IQ and performance at work. Consequently, employers use these tests to identify the best candidates.
Fluid Intelligence Scale Course
---
Amount 1
Course Code
Course Content
Course Duration
Course Objectives
Category
Qualifications of Trainees
Content Language
Course Language
FIC01
First day (5 hours) - Assessing the trainees' level before training. - Introduction to intelligence and cognitive abilities. - theoretical definitions of the scale. - Administration rules. Second day (5 hours) - Training in administration the scale - 30 minutes break. - Training in scoring and writing reports. - The course attendance exam. - Receiving the certificates.
10 hours.
At the end of this course, each trainee will be able to: - predict school and work performance as intelligence is one of the strongest indicators of academic and occupational performance. - Used in quick screening in schools to identify children with learning disabilities and intellectual disability. Also, it is used to identify gifted individuals. After identifying those children, a comprehensive cognitive assessment is administered. thus a lot of schools save plenty of time and money especially when such assessment is required for mainstreaming purpose. - In the field of recruitment, intelligence explains 30% to 70% of the variation in the performance of individuals, depending on the type of work and how the performance is measured (as the correlations were between 0.56 and 0.84). Therefore, intelligence tests have been used by large companies for decades to identify the best employees who are capable of functioning well. Many psychological studies support the relationship between the high degree of intelligence and performance at work. Consequently, these tests are used by employers to identify the best candidates.
Intelligence
Psychologists and special education specialists.
Arabic / English
Arabic Language
Assessment Type
Certificates
Course Location
- Pre-evaluation of trainees. - Exam of course attendance. - Exam of course passing.
- Certificate of attendance (provided attending the entire course) - Certificate of passing the course (its conditions): • Attending the entire hours of the training course • Academic qualification (Bachelor of Arts Department of Psychology). • Practical practice for three months and making its reports. • Administer the test to 15 cases and making their reports. • Pass the training exam (oral, written, and practical).
Arab Corporation for Preparing, Standardizing, and Publishing of Psychological Tests.